This post may contain affiliate links. 
Fall is almost here and boy am I excited. I LOVE Fall. The crisp air, the moody sky, fresh apples, the smell of pumpkin pie baking in the oven…The chill often pushes people inside to enjoy their cider in the confines of their homes. As a homebody, I totally understand this. But Fall also makes me want to get out and DO things! So I put together a list of activities that anyone can enjoy, from solo-adventures to couples' activities to family time! Read all the way down to grab your FREE Fall Bucket List Printable Checklist!
1 | Visit a pumpkin farm
2 | Get lost in a corn maze
3 | Eat Carmel Apples
4 | Volunteer at a Local Charity
5 | Carve Pumpkins
6 | Make Apple Pie
7 | Go, Apple Picking,
8 | Toast pumpkin seeds
9 | Make Hot Apple Cider
10 | Knit a scarf
11 | Jump in a pile of leaves
12 | Host a Backyard Bonfire
13 | Make homemade soup
14 | Go on a spooky tour
15 | "Boo" your neighbors
16 | Discover a new pumpkin recipe
17 | Take the Back-roads for a Fall Foliage Drive
18 | Go on a hayride
19 | Write a ghost story
20 | Have a picnic in the park
21 | Go on a bike ride
22 | Have a scary movie marathon
23 | Read a book by the fire
24 | Attend a local farmers market
25 | Plant a Fall garden
26 | Make a scarecrow
27 |Decorate for fall
28 |Go puddle jumping
29 |Write "thank you" cards
30 |Attend local High School Football game
Click the graphic below to download your printable fall bucket list!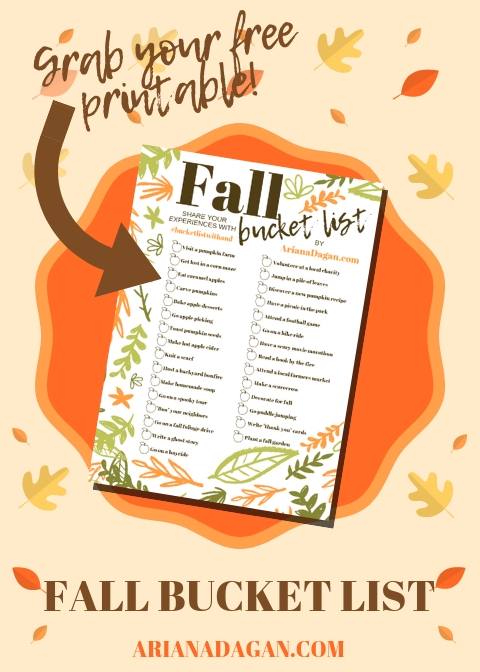 Don't forget to share your pictures on Instagram! Drop a comment below if you'll be following this bucket list!