This post may contain affiliate links. 
Confession: I'm not much of a trendy person, I don't pay attention to magazines, trending hashtags, or what everyone else is doing/saying/wearing. That's probably a red flag for some readers and the truth is, that's okay. If you're looking for trendy advice, I'm not giving it. I'm a geek through and through check out my about me and 13 things you don't know about me if you don't believe it. Instead, I live my life through instinct, what I personally enjoying seeing/doing/wearing/saying etc. etc. And to be honest, I've done okay – and more-so, been on point for trends more often than not (or even started some). My point is, if you live your life this way, chances are you'll enjoy my round ups such as the one that follows. If you live your life by what some trend-maker in their ivory tower declares interesting – then best of luck to ya!
Now, onto the good stuff! Some of the (amazing) Fall goodies I've been obsessing over craving lately for under $25 (I love me a good bargain) that would go perfect with my 30 Fall Activities Printable Bucket List!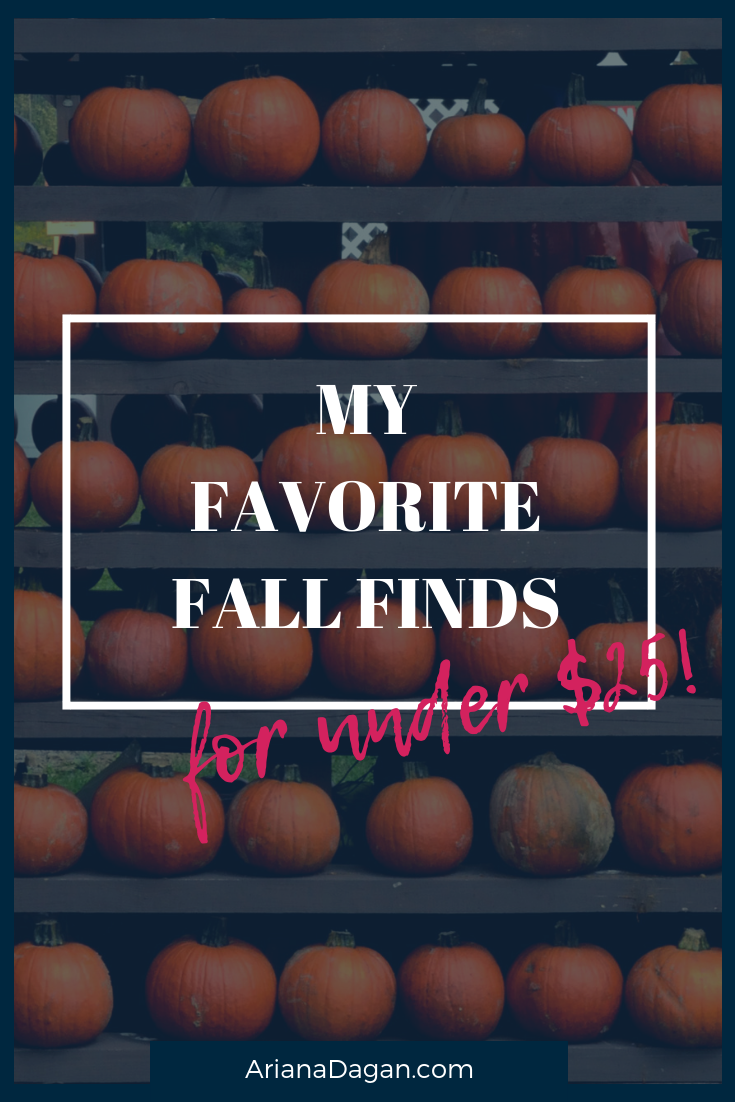 This post contains affiliate links, meaning, if you click through and make a purchase or sign up for a program, I may earn a commission. This is at no additional cost to you.
1 |
Impress Life Decorative Acorn Lights – $13.99
Need I say more? Really?
LOOK AT HOW CUTE THEY ARE.
I want them everywhere in my home! Unfortunately my almost one-year old might like them as much as her mama does but for a different reason…But I definitely grabbed a couple strands and will be adding to next years decor!
---
2 |Mercury Glass Pumpkin Lights with Timer for Fall, 5.5″ Battery Operated – $22.99
I actually bought this for my mom, she's obsessed with mercury glass (almost as much as I'm obsessed with all things pumpkin). I can't wait to see this lit up, I may update this post with a photo later! It looks so darn cute in the photos and I love that its battery operated, no cords!
---
3 | Plaid Sherpa Throw Blanket – $22.99
I can' be the only one that spends all year looking forward to fall so I can curl up under a soft blanket, right? I love this khaki plaid SHERPA throw, my husband and I are sorta addicted to blankets, so I may need to sell him on adding yet another to our collection but did I mention it's SHERPA?
---
4 | Greenbriar International Wooden Hanging Thanksgiving Autumn Themed Decor Sign – $6.99
I love this adorably simple little sign! It's perfect for fall and works perfect as a door hanger instead of the traditional wreath, or even as seasonal wall decor inside on your wall!
---
5 |Pumpkin Spice & Everything Nice Coffee Mug – $12.99

My last pick today is an adorable galvanized steel mug that reads "Pumkpin Spice and Everything Nice" because I could definitely drink pumpkin spice everyday…#sorrynotsorry and I LOVE the galvanized steel mug look. Does that make me 'basic' or whatever the kids call it these days #feelingoldsuddenly.
And Whoa-la! My favorite fall finds for UNDER $25!
What goodies have you been crushing on recently? Let me know in the comments, and make sure you link up your fall finds post below!

PS: This may or may not be shared with these link parties.