This post may contain affiliate links. 
Holiday season is upon us, and you know what that means.
STRESS.
[RELATED: 12 Ways to incorporate relaxation in 5 minutes a day without opening your wallet]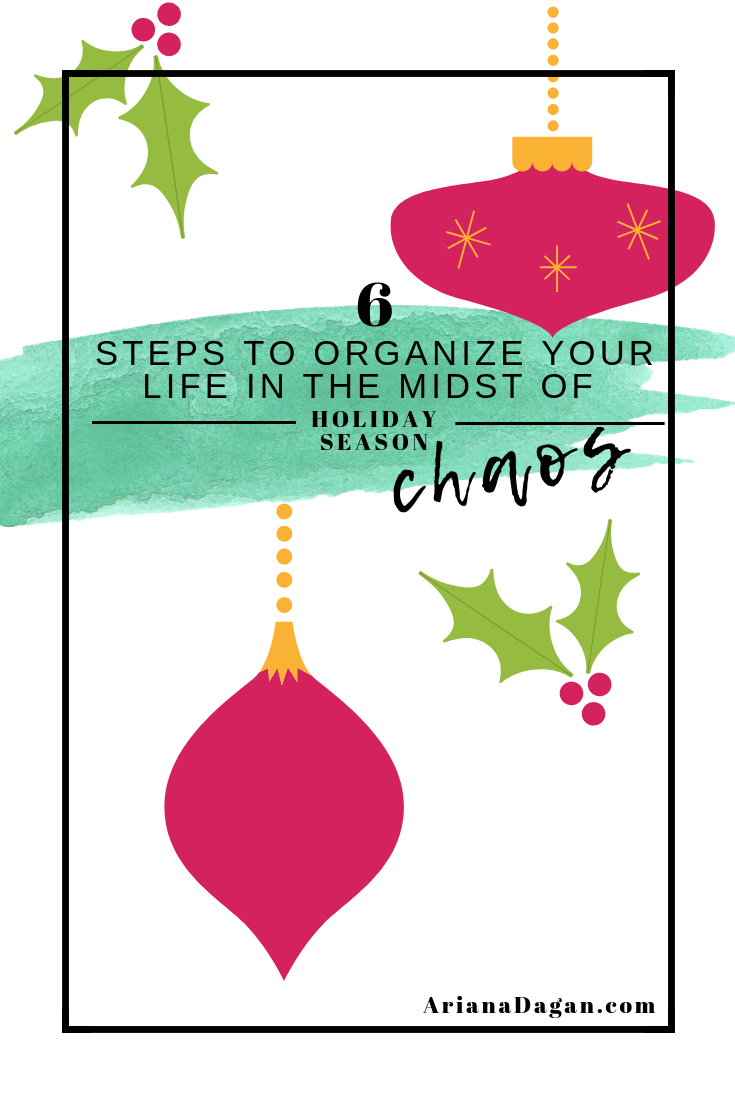 Between our normal daily responsibilities (work, childcare, homemaking, dinner etc.) we now have to fit in shopping, parties, extra cooking and baking, even decorating and wrapping gifts and family photo cards, and additional cleaning, etc.. Typically, once Halloween is over, the game is on. We pile on everything, race through as much as possible before Thanksgiving hits (and lets not even talk about THAT stress) and then just when we think we'll explode from the stress of it all…we add more to that pile.
So how should we deal with it? Well the reality of it is, we could prioritize. We could simply ask ourselves:
"Is having a Pinterest worthy Christmas tree worth the stress? Do we need picture-perfect wrapped gifts? Does my pie really need the extra little cut out shapes on top to be super cute? Do I have to sew my own stockings/make homemade vanilla extract/bake a dozen cookies for each neighbor?"
The truth is, no. You don't. I don't, you don't, we don't need any of that. Is it fun? Yes, to a point. But that IS the point. When it stops being fun, it's no longer worth it. Will that stop you from adding it to 'the pile'? Nope, probably not. So let's take another look at what can really be done.
Organize: Sometimes I feel like I spend half of my time making to-do lists. But then I realize I spend the other half of my time getting things done. And whenever I feel like stress is taking over, usually there is no to-do list involved. So the first thing I recommend doing, is writing it all down. Get it out of your head. Use post it notes, lined paper, a notebook, the back of a receipt, a dirty napkin. It doesn't have to be pretty, it just needs to get the job done. The only thing you should think about is how far out this list should go. Is it a daily? Weekly? Monthly? Whole season? Choose the most suitable and keep that in mind as you make your list. I recommend a weekly, it's easier to organize and break down!
Prioritize: Now that you have your list, prioritize it. This doesn't mean you won't get things done. But it's important that you get the non-negotiable things done first. So mark each item that is 'non-negotiable'. For example, buying your kids gifts might not be negotiable, but buying the butcher a gift might be if worst came to worst.
Put a date on it: Take a good long look at each item on your list and write the absolute NON-PUSHABLE deadline for each item. Try not to use the date you want it done by, but by the the very last possible date it can be done by.
Time Stamp: We're almost there! Now go back through your list one more time, and write the approximate amount of time it will take to accomplish this task. I know this sounds like a waste of time but I promise its worth a try. Remember to be honest with this task. It's especially important not to take more than 5 minutes to finish this step. Over estimate time, rather than under. For example, if you need a gift for a hard to shop for person. Don't say 30 minutes. Chances are you will spend 30 minutes just researching gifts alone. Take into consideration where you will shop (online vs offline), do you need to drive somewhere, will you be walking aimlessly around the mall for a couple hours? Again, be honest.
Consolidate: Now is time to consolidate and organize your to-do list! Remember back in step one where you decided if this would be a daily/weekly/monthly/seasonal list? Open a calendar appropriately. Now begin to consolidate where you can. Do you need to buy 2 gifts? Do all the shopping at the same time. If you estimated 3 hours for 1 gift and 2 for another, do you think you can shave off an hour by doing the shopping at the same time? What day works best for that?
Plug and play: There is no exact science to this. It's based on YOUR time commitments and what needs to be done. Start with the non-negotiable tasks, build out around them. Try to incorporate 1-2 tasks each day that are more on the 'fun' or 'negotiable' side. Remember to take into consideration your additional commitments such as work, dinner (voting, ahem), etc. [Related: Seasonal]Now that you have your to do list, go forth and enjoy your life WHILE getting everything you need to, done! But please remember; hanging decorations, making cookies, and shopping for gifts is NOT LIFE OR DEATH. So take care of yourself first, and the rest will follow.
LINK PARTIES |ETSY |REDBUBBLE |PINTEREST |INSTAGRAM | FREEBIES