This post may contain affiliate links. 
Happy Monday! It's time for another Mood Board, and today's is a beautiful palette inspired by Tahoe!
"King's Beach at Sunset"
16″x 20″ x .5″ acrylic on stretched canvas.
Original is available, prints and products available at Fine Art America.
This painting was inspired by a series of photos taken at sunset along King's Beach in Lake Tahoe, California.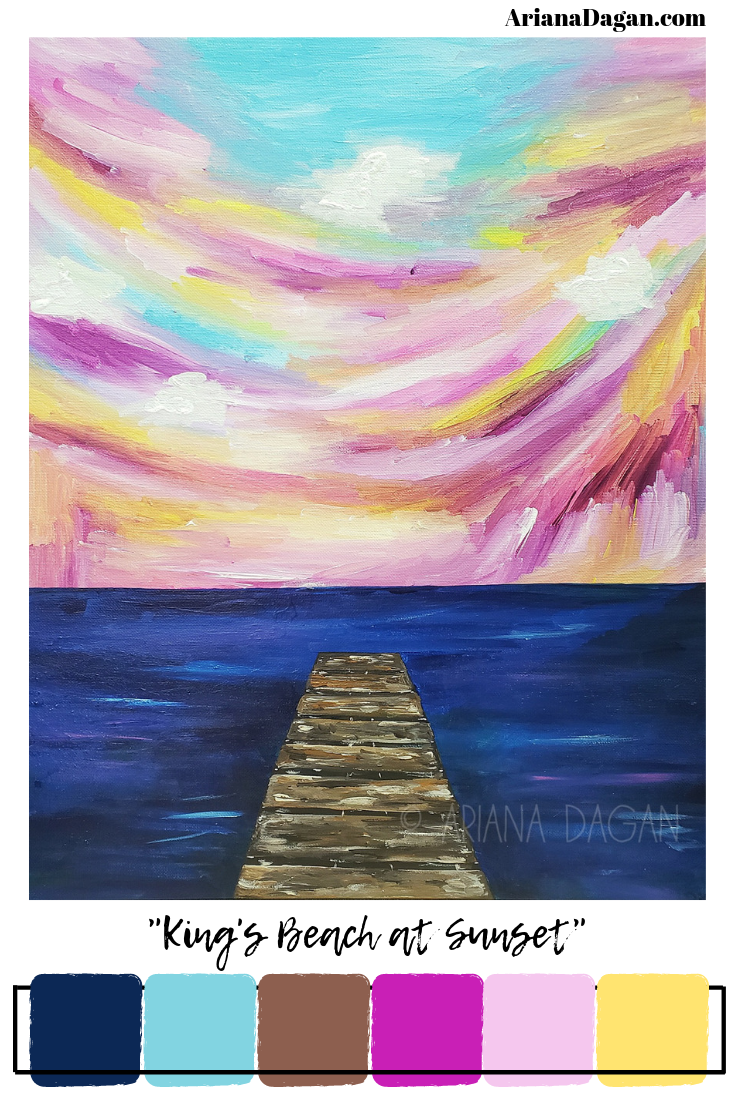 I love color combinations that use shades of pink and purple without feeling strongly feminine. While pink happens to be my favorite color, I appreciate it as a background element rather than the main emphasis. I think this would make a gorgeous bedroom color palette. It feels very sophisticated and luxe without being uncomfortable. I'm excited to play with that concept!
Color Codes:
"Strong Orchid" | Hex #c91fb6 | RGB 201, 31, 182
"Deep Cobalt Blue" | Hex #0c2855 | RGB 12, 40, 85
"Light Arctic Blue" | Hex #82d4e1 | RGB 130, 212, 225
"Very Light Amber" | Hex #ffe470 | RGB 255, 228, 112
"Very Pale Orchid" | Hex #f5c7ee | RGB 245, 199, 238
"Moderate Vermilion" | Hex #8d5f4f | RGB 141, 95, 79
Would you ever use this palette in your bedroom? Let me know below!
FINE ART AMERICA |REDBUBBLE |PINTEREST |INSTAGRAM | FREEBIES | LINK PARTIES