This post may contain affiliate links. 
If you're into bright blues, I have a color palette for you today!
"A Day at Twilight Beach"
16″x 20″x.5″ acrylic on stretched canvas.
Original is available, prints and products available at Fine Art America.
The painting is based off of a couple photos taken by my friend who lives in Western Australia. On a recent hike, he took some photos at overlooking Twilight Beach and I begged to paint them because the colors were UNREAL.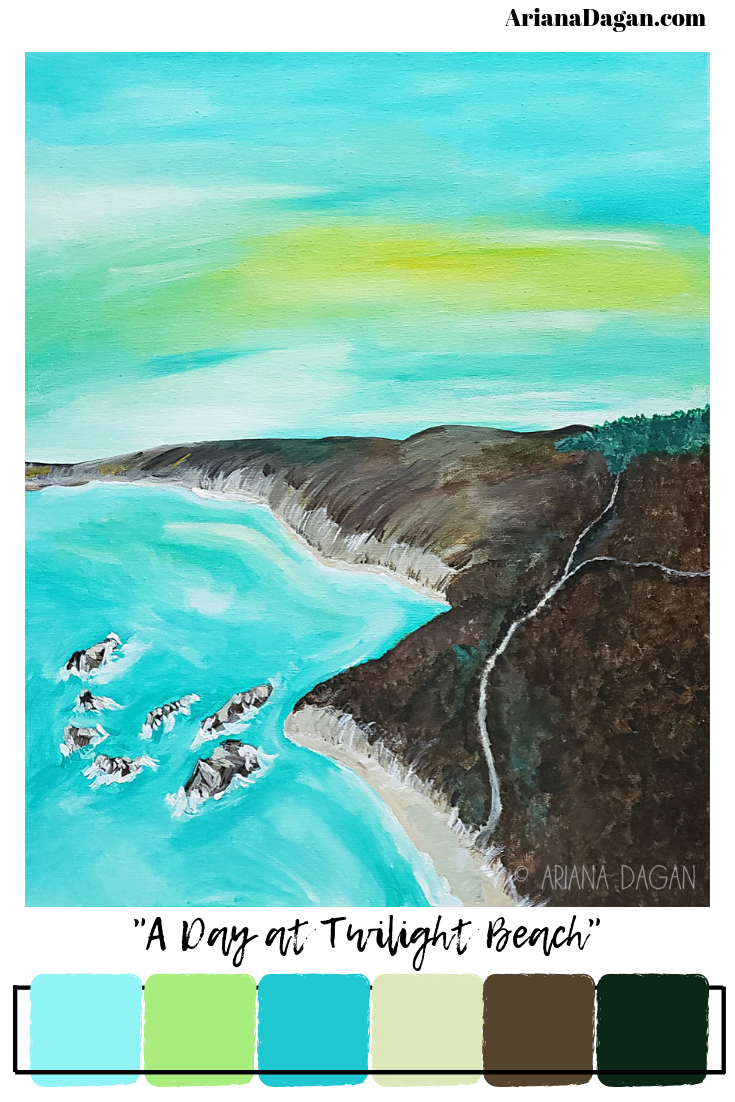 I considered just doing the palette in tones of blue, but finally resisted. I love how bright and bold the color scheme is, but the muted browns and greens mellow it out. So much fun, I'm not sure what decor board I will create with this yet, but I'm excited to play! Drop a comment below what room you could imagine this color scheme in!
[RELATED: Color Palettes]
Color Codes:
"Pale Cyan" | Hex #90f3f6 | RGB 144, 243, 246
"Pale Pistachio" | Hex #a9ed7f | RGB 169, 237, 127
"Vivid Cyan" | Hex #20c7d1 | RGB 32, 199, 209
"Very Pale Lime Green" | Hex #dce8ba | RGB 220, 232, 186
"Dark Gamboge" | Hex #54432d | RGB 84, 67, 45
"Deep Sea Green" | Hex #0c2716 | RGB 12, 39, 22
SHOP LINKS | NEWSLETTER | PINTEREST | LINK PARTIES | FREEBIES