This post may contain affiliate links. 
Happy Monday! It's time for another Mood Board, and today's is a fun and vibrant color palette!
"Story of the Babbling Brook"
11″x 14″ acrylic on panel.
Original is available, prints and products available at Fine Art America.
This painting was inspired by aerial photos of fields, I love the patchwork of colors and textures that nature provides. This particular painting was unique for me, as I used reference photos for perspective and texture but composition. That was created simply from imagination and letting the paintbrush do the talking.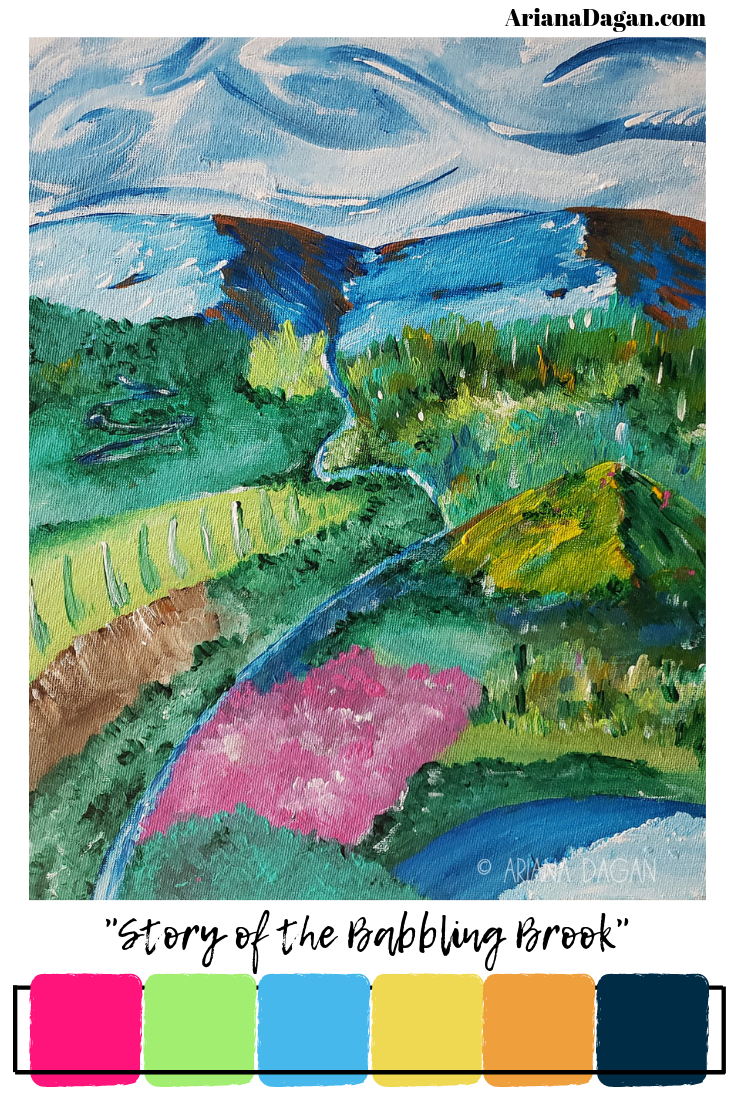 I love a vibrant, colorful palette and this is no exception. Every inch of this painting is pure movement with bright colors found in every stroke, of every blade of grass and ripple in the water. I admit, my bedroom in college was bright rainbow color scheme so this would have been perfect in there!
Color Codes:
"Luminous Vivid Rose" | Hex #ff147b | RGB 255, 20, 123
"Very Light Pistachio" | Hex #a1ee71 | RGB 161, 238, 113
"Light Brilliant Cerulean" | Hex #47b8eb | RGB 71, 184, 235
"Very Light Gold" | Hex #efd953 | RGB 239, 217, 83
"Light Brilliant Orange" | Hex #ef9f3c | RGB 239, 159, 60
"Deep Cornflower Blue" | Hex #002c46 | RGB 0, 44, 70
[RELATED: Color Palettes]
Would you ever go this colorful in your home? Let me know below!
SHOP LINKS | NEWSLETTER | PINTEREST | LINK PARTIES | FREEBIES