This post may contain affiliate links. 
Happy Monday! Last week we got inspired by a piece of art called "Little Colorado River Confluence" which was full of elegant, fall jewel tones that created a rich color palette inspiration. Today, we're using that palette to create a mood board for a living room!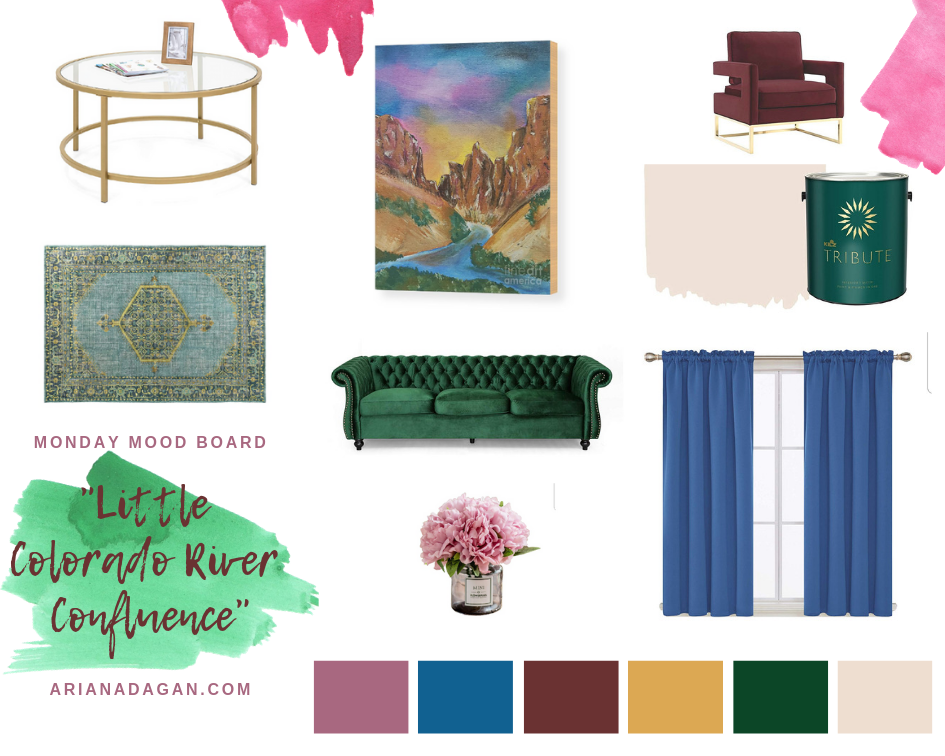 I love how elegant this room looks without feeling untouchable!
This post contains affiliate links, meaning, if you click through and make a purchase or sign up for a program, I may earn a commission. This is at no additional cost to you.
Shop This Look:
WALL COLOR | Champagne White by KILZ TRIBUTE Interior Matte Paint and Primer – this is a beautifully understated color that would look incredible in any home and in any room. It's perfect for warming up the atmosphere and emphasizing the colors and textures surrounding it.

ARTWORK | "Little Colorado River Confluence" by Ariana Dagan – At the time of posting, the original piece is available, but you can also buy prints and products of it on Fine Art America! The original is 8″x 10″x.5″ on cradled wood canvas, but prints can be done in a range of sizes to fit your room! Personally, I love the wood – which you can order prints on wood panels!

COUCH| Vita Chesterfield Tufted Jewel Toned Velvet Sofa -This luxurious velvet couch is gorgeous and I literally haven't stopped drooling since I found it. I love emerald colored couches anyway, add a little tufting action and I won't ever leave. Oh, and PS – this couch also comes in Blackberry and Navy. Just saying!

CHAIR | Abbyson Mandy Velvet Armchair – I love the idea of balancing the ornate statement couch with something that has simple lines, and contemporary, modern feel. This beautiful chair is Rose with gold chrome accents is perfect.

CURTAINS| Blackout Curtains – You know what I like in my curtains? Function. Sure patterns, colors, and shapes are fun – but do they do anything? Do they block out the sun in the middle of the day? Do they help trap heat during the winter? Happy to report my daughter has these in her bedroom, and they do! Plus the color is gorgeous!

RUG | Surya Zahra ZHA-4027 Hand Knotted Classic Area Rug -I'm a sucker for traditional rugs, and I love how this one pulls in so many colors from the room without overtaking the room! Plus this comes in a variety of colors and sizes to work with anyones room!

COFFEE TABLE | Glass Coffee Table – How beautiful is this? I really like the round shape, there's something very welcoming and soft about the lack of corners on a table. Of course gold trim adds a bit of glam to the room, and I always like to say that glass lets you see the coloring surrounding it even better.

FLOWERS | Faux Peonies – Peonies happen to be my favorite flower, so I couldn't resist their charms for this room design!
Color Codes:
"Moderate Orchid" | Hex #a86880 | RGB 168, 104, 160
"Deep Spring Green" | Hex #0c4627 | RGB 014, 106, 047
"Strong Cornflower Blue" | Hex #116191 | RGB 021, 141, 221
"Deep Red" | Hex #6a3232 | RGB 152, 062, 062
"Brilliant Gamboge" | Hex #dca853 | RGB 220, 168, 83
"Orangish Black" | Hex #eeded0 | RGB 238, 222, 208
[RELATED: Decor Mood Board]
Are you loving this look as much as me? Let me know below!
SHOP LINKS | NEWSLETTER | PINTEREST | LINK PARTIES | FREEBIES