The craft table features a few of my favorite creative hobbies, you can find additional work related to items below on my YouTube Channel. For information on custom projects or wholesale purchases, please contact me using the form below.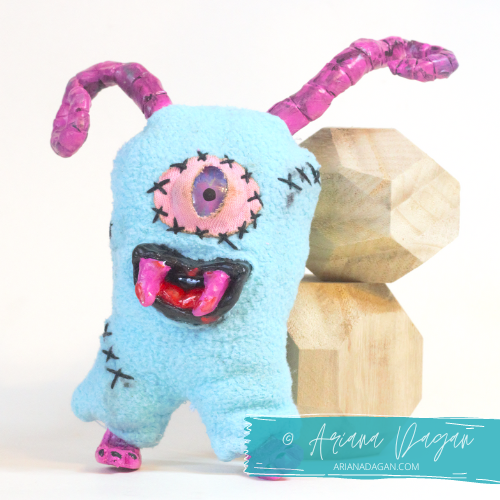 Monster Dolls
Created from fabric and yarn scraps, stained and ripped clothes, and leftover pillow fill, these monsters are bursting with personality and texture!
Hand Wood-burned Accessories
Hand wood-burned pieces ranging from jewelry to large works of art and functional wood tools around the house.
Diorama's
Made from bits of trash and recycling
Resculpts and Repaints
Using thrift store finds, clay, and a little paint magic, I reimagine everyday pieces.
Hand-Painted Wood Accessories
Pairing hand-painted galaxies on wood slices with zodiac signs for personalization on necklaces, earrings, and ornaments.
Spun Cotton Sculptures
Using the art of spun cotton, I've created a variety of characters ranging from cute and kawaii to dark and morbid.
Block Printing
Turning my illustrations into one-of-a-kind hand-carved stamps for printing.
Weaving
Creating textured weaves from recycled materials such as ribbon scraps, handmade t-shirt yarn, and worn denim pieces.